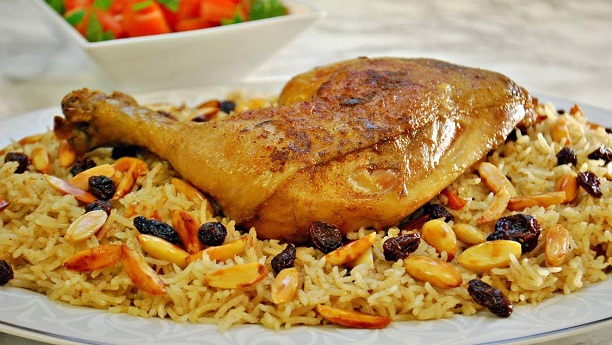 Preparation time: 30 mins. | Serves 2 persons
This Arabic Rice Recipe is prepared with chicken and an amazing Asian spice aroma. Only salt and pepper seasoning is used in the whole recipe but the aroma of all spices enhances its flavor. Any kind of yogurt sauce (raita) complements this delicious rice.
Ingredients:
4 tbsp oil
1 small onion (chopped)
1 bay leaf
4 cloves
1 tbsp garlic (minced)
½ tbsp ginger (minced)
1 lb chicken boned pieces
Salt to taste
1 tsp crushed black pepper
2 cups long-grain rice (cooked)
2 tbsp raisins
½ tsp all spice powder
Pinch of yellow color
Procedure:
1. In a deep saucepan, heat 3 tbsp of oil and fry onion and bay leaf, and cloves till onion becomes translucent.
2. Add ginger, garlic, and chicken and cook for 3-5 mins. till the chicken becomes white and dry.
3. Then add seasoning of salt and pepper along with 1 cup water and simmer chicken for 15 mins. or until cooked through.
4. After that take out the chicken pieces and add cooked rice, raisins, and all spice powder to the same pan and stir well to mix. Cover the pan and cook over very low heat for just 8-10 mins. so that all flavors absorb in the rice well.
5. Meanwhile in a frying pan, heat 1 tbsp of oil and fry the cooked chicken pieces until becoming light brown. It would take 2-3 mins.
6. When the rice has been done, take it out into the serving platter and place chicken pieces on top. Serve this delicious Arabic Rice with yogurt sauce.
photo source : 1