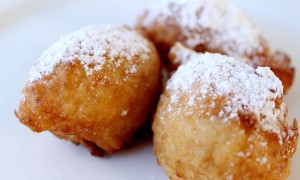 Preparation time : 20 min. | Serves 12-16 cakes
This recipe for rice cake is actually knows as Calas Recipe and is one of a famous New Orleans recipe. This recipe from Creole Cuisine is simple and easy recipe to prepare at home. Enjoy this delicious rice cake as snack with tea or take it as breakfast food.
Ingredients:
2 eggs
6 tbsp granulated sugar
2 tsp vanilla extract
½ tsp grated nutmeg
½ tsp grated orange peel
½ tsp salt
2 tsp baking powder
2 cup cold cooked rice
1 cup all-purpose flour (or as required)
Oil for deep frying
Confectioners sugar for topping
Procedure:
1. In a mixing bowl, beat eggs and sugar together at high speed until creamy and smooth batter would form.
2. Add vanilla extract, nutmeg, lemon, salt, baking powder and rice and mix at low speed so that every ingredient incorporates well with each other.
3. Now gradually add flour to the batter so that sticky dough would form.
4. Heat oil for deep frying in a wok and drop batter in the preheated oil using tablespoon and fry until become golden brown in color, it would take 4-5 min for one batch to fry completely.
5. Take out the hot rice cakes on a serving platter and sprinkle confection's sugar on top.
photo source : 1