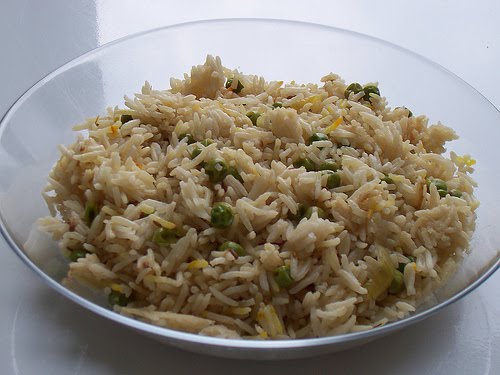 Preparation time : 30 mins. | Serves 4 persons
This
matar pulao
recipe is typical South Asian rice recipe which is usually served with korma. This pulao can also be prepared with chick pea or large yellow lentils and tastes great. This pulao gives great flavor when it is served hot.
Ingredients:
500 gm long grain rice
1 medium size onion (julienne)
1/4 cup yogurt
1 medium tomato
4 green chilies
1/4 cup coriander leaves
1/4 cup mint leaves
2 cinnamon sticks
2 green cardamoms
1 black cardamom
3 cloves
2 bay leaves
Salt to taste
4 cup hot chicken stock (or as required)
1/2 cup oil
Procedure:

1. In a deep sauce pan saute onions with cloves, cardamoms, cinnamon sticks and bay leaves until onion become light golden in color.
2. Make a smooth paste of yogurt, tomato, green chilies, coriander and mint leaves.
3. Add the above yogurt paste,salt and peas in the fried onion and cook on medium heat for 4-5 mins until oil starts to separate from the gravy.
4. Now add rice and hot chicken stock to the peas gravy, stir well and cover the lid to cook it on high flame for 5-8 mins until stock starts bubbling and gets dry. Add enough chicken stock so that it 1 inc. above the rice level.
5. After that reduce the flame to low and let the rice cook until become completely tender.It would take at least 10 mins.