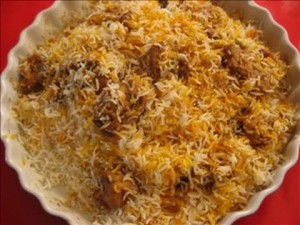 Preparation time : 60 mins. | Serves 2 persons
This pulao biryani recipe is the lightest biryani recipe which is prepared with little spices but tastes awesome. It is usually served with raita or sometime with traditional chicken or meat curry like korma.
Ingredients :
For Gravy :
1 lb chicken
2 cup oil
2 onions (sliced)
2 tbsp ginger garlic paste
1 cup yogurt
1 tsp red chili powder
2 tbsp turmeric powder
¼ tsp nutmeg and mace powder
Salt to taste
6-8 green chilies (chopped)
2 star anise
2 cinnamon sticks
6-8 cloves
4-5 green cardamoms
2-3 black cardamoms
2 bay leaves
1 tbsp fennel seeds
1 tbsp coriander seeds
1 tbsp cumin seeds
For Rice :
300 gm long grain rice (soaked in water for 30 mins.)
2 star anise
2 cinnamon sticks
6-8 cloves
4-5 green cardamoms
2-3 black cardamoms
2 bay leaves
Salt to taste
1 tbsp white vinegar
For Assembling :
¼ cup chopped fresh coriander leaves
¼ cup chopped fresh mint leaves
1 cup fried onions
½ tsp yellow color
Procedure:
1. Heat oil in a saucepan, add onions and cook till become soft and turn into pink color.
2. Then add ginger garlic paste and chicken and sauté until chicken become light brown and water gets dry.
3. Add yogurt with red chili, turmeric and salt. stir well and then add a pouch contains fennel seeds, coriander seeds, cumin seeds, cinnamon, cloves, cardamoms and bay leaves. Simmer till chicken gets tender.
4. Now add green chillies with 1 cup of water and cook over medium-high till oil starts to separate from the gravy. Then remove pan from heat and set aside.
5. Boil water for rice in another saucepan along with salt, cinnamon, cloves, star anise, cardamom and vinegar, then add rice and cook till rice becomes half done.
6. Then drain all the excess water from rice and set aside.
7. Take a deep sauce pan spread half of the rice at the bottom of this pan, make a layer of prepared chicken on it, then spread fried onions, coriander leaves and mint and cover with remaining rice. Dissolve yellow color in 2-3 tbsp of water or milk and pour it into the center of the rice and simmer for at least 15 min till steam packs in the pan.
photo source : 1