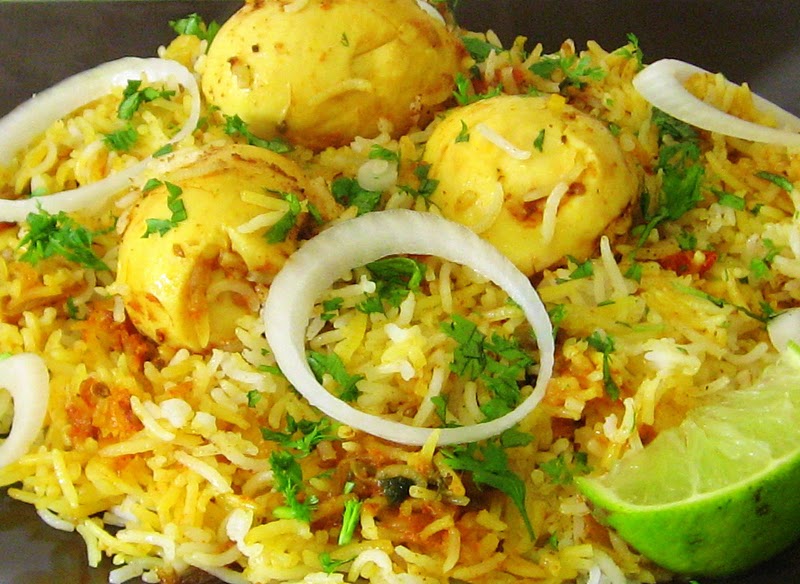 Preparation time : 40 min. | Serves 4 persons
This recipe for egg biryani is prepared without any meat but has the taste like any meat biryani. You can also add potatoes in the recipe if you are a potato lover.
Ingredients:
For Gravy:
6 hard boiled eggs
2 cup oil
3 medium onion (thinly sliced)
4 medium tomatoes (chopped)
2 tbsp ginger garlic paste
1 tbsp red chili powder
½ tbsp turmeric powder
1 tbsp cumin powder
1 tbsp chaat masala
1 tbsp hot mix spice powder / garam masala
½ cup yogurt
½ tsp nutmeg and mace powder
Salt to taste
For Rice:
½ kg long grain rice (soaked in water for 30 mins.)
2 sticks cinnamon
2 bay leaves
4 cloves
3 green cardamoms
2 black cardamoms
Salt to taste
water as required
For Assembling:
3-4 green chilies (remove stem)
½ cup chopped fresh coriander
¼ cup chopped fresh mint
¼ cup dried plums
Pinch of yellow food color (dissolve in 2 tbsp of milk)
Procedure:
1. Fry onions in oil till become brown and crisp, then drain extra oil and keep it aside.
2. Add ginger garlic paste, red chili powder, turmeric powder and tomatoes to the onion and cook with half cup of water till tomatoes become soft.
3. Then add yogurt, cumin powder, garam masala and nutmeg and mace powder and cook over medium heat till onion and tomatoes mix well to form a thick gravy.
4. Add in chaat masala in the end and then simmer for just few min till oil starts to appear on the surface.
5. Now fry boiled eggs in 2 tbsp of oil till become golden brown from both sides (not evenly), it would take 3-5 mins. Then cut each egg into halves.
6. Meanwhile when gravy is cooking, boil water with whole spices mentioned to cook rice.
7. When water started to boil, add rice and salt with 2 tbsp of vinegar and cook till rice starts bubbling and become half done. Then strain all the water from rice and set aside.
8. Now take a deep sauce pan with lid, grease it from the bottom, spread half of the rice at the bottom, pour the prepared gravy over the rice, make a layer of boiled eggs and then cover with chopped coriander, mint, green chilies and dried plums. In the end cover with the remaining rice, drizzle the yellow color and reserve oil over the top and cover the lid.
9. Cook the rice at high heat first till steam starts to appear at the surface (for about 5-8 min.) then reduce the heat to very low and cook for further 10-15 min until pleasant smell start to come and rice would cook completely.
10. Dish out the spicy delicious egg biryani into the platter and serve with onion rings, lemon wedges and raita.
photo source : 1