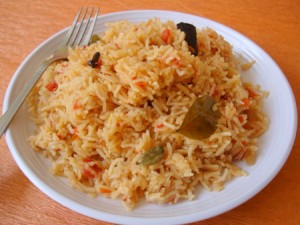 Preparation time : 30 min. | Serves 2 persons
This tomato rice recipe is quite simple and easy and smells awesome! It is usually served with raita (yogurt sauce) but can also be served with chicken curry or else.
Ingredients:
¼ cup olive oil
2 tbsp butter
2 green cardamoms
1 black cardamom
4 cloves
2 cinnamon sticks
1 large onion (chopped)
2 cloves garlic (chopped
3 large tomatoes (chopped)
3 cup vegetable stock
2 cup long-grain rice
Salt and freshly ground pepper to taste
2 tbsp chopped coriander
1 tbsp chopped mint
Procedure:
1. Heat the oil and butter in a large saucepan, fry cinnamon, cardamoms and cloves until pleasant smell starts to come.
2. Add onion and garlic and cook till become soft.
3. Add tomatoes, cover and simmer for 15 min until tomatoes become soft and mix well with onion and garlic.
4. Now add stock and bring the mixture to boil.
5. Add rice, salt, pepper, coriander and mint, cover and cook over high heat till boiling then reduce the heat to a simmer and cook covered until the rice is done. It would take about 20 min. Delicious tomato rice is ready to serve with raita or any curry.
photo source : 1