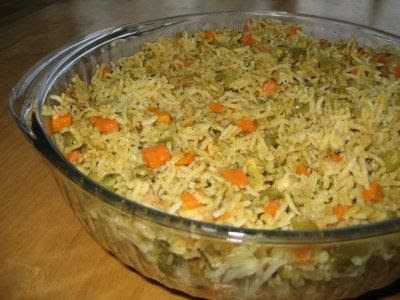 Preparation time 1hr approx. | Serve 10 persons
Biryani is usually prepared with meat but you can also use vegetables in the case of vegetable biryani . Those who are vegetarians will no doubt love this recipe because it contains lots of vegetables with little spicy flavors. Cooking vegetable biryani is very easy and simple and it will be more tasty and nutritious when you use fresh vegetables instead of frozen veges.


Vegetables:


250 gm cabbage (boil)
250 gm spinach (boil)
½ kg carrot (boil)
250 gm green peas (boil)
750 gm onion (julienne)
½ kg spring onion (chopped)
1 bunch coriander leaves
1 bunch mint leaves
10-15 large thick green chilies
5-6 potatoes (cut in bid pieces and fry for just 5mins)
½ kg tomato (chopped)
2 kg rice (soaked in water)

Spices:
2 tbspn ginger paste
2 tbspn garlic paste
1 tspn turmeric powder
1 ½ tbspn red chili powder
½ tbspn coriander powder
2 tbspn all spices powder
½ tspn nutmeg and mice powder
1 tbspn cumin powder
5-6 cinnamon sticks
8-10 cloves
7-8 green cardamom

200 gm yogurt
Salt to taste
2 cup oil (or as you required)

Procedure:


1. Put oil in a deep pan and fry onions and spring onions together till they become light brown in color.
2. After that add tomato and ginger garlic paste and cover the pan to cook the tomato. Stir in between so that stuff should not stick to the pan and cook evenly.
3. When all the tomatoes become tender add cinnamon sticks, cardamom, cloves, red chili powder, turmeric powder and salt.
4. Cook the above mixture well for 5-10mins and stir continuously.
5. Add fried potatoes and water just to tender the potato.
6. When oil starts to separate from the gravy and all potato become tender add yogurt and cook so that extra water of yogurt has been dried.
7. Now add all the rest of vegetables with all spice powder, nutmeg and mice powder, cumin powder and coriander powder in the gravy; mix well and cook for just 5mins.
8. Half boil rice with cardamom, cloves, cinnamon sticks and salt. When rice becomes half done then drain all the water.
9. In a deep pan make a layer of rice, put vegetable gravy on it then sprinkle some coriander and mint leaves, again make a layer of rice on it and vegetable gravy and at last make a layer of rice to cover all the gravy.
10. First put the pan on high flame until steam comes and smell starts to come from the pan, then slow the heat to minimum and cook for 10-15mins more.
11. Now delicious Vegetable biryani is ready to eat. You can adjust the quantity of spices according to your taste or you can also use ready made biryani pack.
Note :

Using a kitchen mandolin slicer will save you lot of time for other work as it slices, dices, shreds and make cubes of vegetables and fruits in very little time.
Servings:
Serve the vegetable biryani with spicy yogurt smoothie (raita) and salad like spinach salad