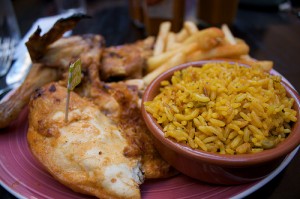 Preparation time : 30 mins. | Serves 4-6 persons
This peri peri rice is one of a spicy rice from South African cuisine but has now become popular all around the globe. You can also add finely chopped veggies like capsicum and carrot to the rice to give it some color. It is usually served with peri peri chicken.
Ingredients:
For Rice:
1 kg long grain rice (soaked for 30 mins.)
1 cup peri peri sauce
2 tbsp soya sauce
1 tbsp garlic chopped
¾ cup oil
Salt to taste
1 tsp chicken powder
2 onion (chopped)
3 tomatoes (chopped)
For Peri Peri Sauce:
½ cup lemon juice
10 jalapeno red peppers
4 tbsp olive oil
2 tsp garlic powder
1 tbsp cayenne pepper
1 tbsp paprika
2 tbsp dried oregano
Salt to taste
1 small onion
½ tsp citric acid powder
Procedure:
1. To prepare peri peri sauce, place all ingredients in blender and make smooth paste, if necessary add small amount of water so that all the ingredients blend well.
2. You can preserve it by keeping it in airtight container in fridge.
3. Now to prepare rice, heat oil in saucepan, saute onion with garlic till become slightly golden.
4. Then add tomatoes, peri peri sauce, soya sauce, chicken powder, salt and water and let the mixture boils.
5. After that add in rice, cook on high heat till water starts to absorb and when disappear from the surface, reduce the flame to very low and cook till rice gets completely cook.
photo source : 1