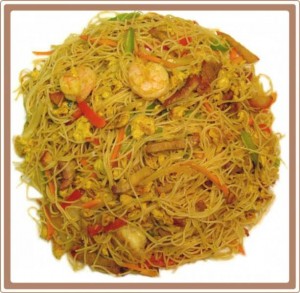 Preparation time : 20 mins. | Serves 2-4 persons
This rice with noodles recipe is from Asian cuisine in which vegetables are used with noodles and shrimps. You may  also use chicken instead of shrimps, it resembles with the typical singaporean rice except mayonnaise sauce which is one addition to the singaporean recipe, so you can use these rice to enjoy singaporean rice at home.
Ingredients:
1 cup boiled rice
1 tsp ginger (finely chopped)
1 tsp garlic (finely chopped)
¼ cup spring onion (finely chopped)
¼ cup cabbage (finely chopped)
¼ cup carrot (finely chopped)
¼ cup capsicum (finely chopped)
1 tsp chicken powder
1 tsp chili powder
1 tsp sugar
2 tbsp soy sauce
½ tsp chili sauce
1 ½ cup boiled noodles
1/4 cup Oil
250 gm cooked shrimps
Salt As required
Procedure:
1. In a wok, saute garlic, ginger and green chilies for 1-2 mins.
2. Now add all vegetables, chili powder, chicken powder, salt and sugarand stir continuously for 3-4 mins.
3. After that add rice, soy sauce and chili sauce and cook for 5 mins until all the ingredients mix well.
4. In the end remove the wok from heat and add noodles, shrimps and spring onions to the rice and serve hot.
photo source : 1