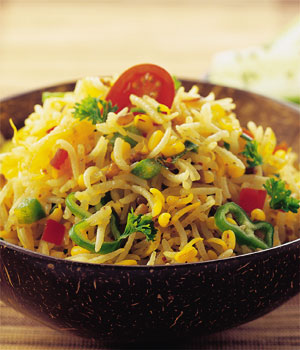 Preparation time : 30 mins. | Serves 2 persons
This vegetable pulao is from South Asian cuisine, it is less spicy than traditional vegetable biryani. If you want even more lighter pulao having negligible spices, then add green paste of coriander leaves and green chilies in place of turmeric and red chili powder. Addition of yogurt would also increase its taste and aroma.
Ingredients:
1 cup rice (soaked in water for 30 mins.)
2 cup chicken stock
1 cup mix vegetables
1 cinnamon stick
2 cloves
2 cardamom
Salt to taste
1/4 tsp turmeric powder
1 tsp coriander powder
2 green chilies
1/2 tsp red chili powder
400 gm tomatoes (chopped)
1/2 cup coconut powder
1 tsp black cumin seeds
1 bunch coriander leaves (chopped)
2 tsp garlic paste
2 tsp ginger paste
2 tbsp butter
1 onion (julienne)
1/4 cup oil
Procedure:
1. Heat butter and oil in a sauce pan and fry cinnamon, cardamom and cloves for 2mins.
2. Add onions and chilies until become golden brown and crispy.
3. Now add all the spices including ginger garlic paste, turmeric powder, red chili powder and coriander powder and cook for just 1-2 mins.
4. Now add chopped tomatoes. coconut powder, salt and simmer for 5 mins. until tomatoes become soft.
5. Drain all the water from the soaked rice and add it to the spices along with coriander leaves, cumin seeds, vegetables and stock. After mixing cover the pan and cook for 5 mins. on high flame.
6. When water starts to absorb reduce the flame to low heat and let it cook for 8-10 mins. until rice become tender.
photo source : 1