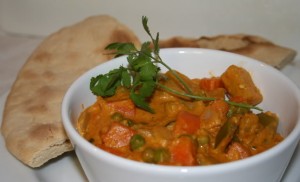 Preparation time : 30 mins. | Serves 4 persons
This vegetable korma recipe is from South Asian cuisine, its recipe is more or less similar to other meat korma recipe. To save your time, you may also use frozen mix veggies instead of using separate veggies but for that you don't need to add water in this recipe as all vegetables are already tender.
Ingredients:
3 cloves Garlic (finely chopped)
2′ ginger pieces (finely chopped)
2 medium size onions (julienne)
1 tsp coriander powder
1/2 tsp turmeric powder
1 tbsp red chili powder
1 cinnamon stick (2" size)
2 cloves
2 cardamom
2 tbsp coconut powder
1 tsp cumin powder
1/4 tsp nutmeg and mace powder
1 tsp ground poppy seeds (roasted)
Salt to taste
1/2 cup carrot (chopped)
1/2 cup capsicum (chopped)
2 medium size potato (cut in cubes)
1/2 cup cabbage (chopped)
1/2 cup cauliflower
1/2 cup peas
1/2 cup yogurt
1/2 cup oil
Procedure:
1. Heat oil in a deep saucepan and fry cinnamon, cloves and cardamom for 2 mins.
2. Now add onions and fry until onion becomes light brown and crispy.
3. Add chopped ginger garlic, turmeric powder, red chili powder and vegetables and cook on high flame for 2-3 mins. After that add 1 cup of water to the vegetables and simmer for 10-15 mins.
4. When the veggies become tender add ground poppy seeds, salt, yogurt, nutmeg and mace powder and coconut powder. Stir the vegetables so that all the ingredients incorporate with each other and simmer for further 5 mins.
5. Remove the pan from heat and take out the delicious vegetable korma in serving bowl and garnish with coriander leaves.
photo source : 1