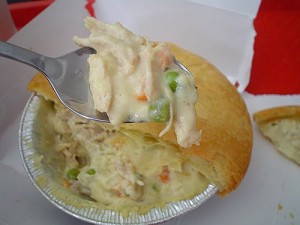 Preparation time : 60 mins. (approx.) | Serves 6 persons
This KFC Pot Pie recipe is inspired by the famous fast food restaurant. It is prepared with veggies and cream of chicken soup while the crust of the pie is the dough used for making KFC buttermilk bisquick.
Ingredients:
For Crust:
½ cup butter
¼ cup club soda
1 beaten egg
¾ cup buttermilk
1 tsp salt
5 cup Bisquick Biscuit Mix
For Pie Mixture:
2 potatoes (peeled and cooked)
⅔ cup frozen peas
2 can cream of chicken soup
2 carrots (peeled and cooked)
2 tbsp frozen onion
2 cup cooked chicken
Dash of salt and pepper
1 tsp Parmesan cheese
Procedure:
1. Preheat the oven to 450°F.
2. In a mixing bowl combine all ingredients and knead till become a one unit to hold properly.
3. To prepare pie mixture combine carrot, potatoes, onion, cooked chicken and peas.
4. Stir them in cream of chicken soup and parmesan and season with salt and pepper.
5. If you feel the mixture is too thick you may add few tbsp of milk to lighten the consistency.
6. Take your suitable pie mold or cup pour the prepared mixture up to ¾ level. Now take the dough of crust (divide it into multiple pieces if you are using individual serving molds) make it flatten according to the size of your pie dish and level it onto the top of the pie dish to cover the mixture. Brush it with butter.
7. Bake in a 375 degrees F for 15-25 mins. or until the crust becomes golden brown.
photo source : 1