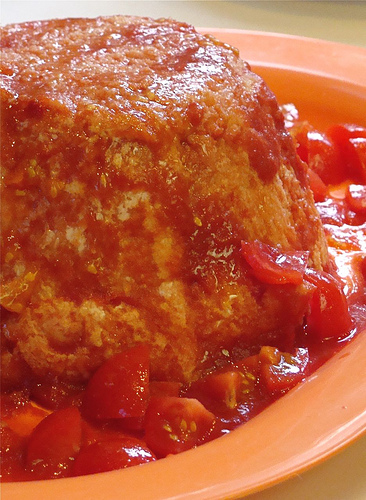 Preparation time : 45 mins. | serves 4 persons
This tomato pudding is little different from other pudding recipes as it has some salty and sweet flavor with pepper. The pudding is prepared on steam which requires some time to set but it would become good and tasty when it is served with its tomato sauce given below.
Ingredients:
8 tomatoes (sliced)
2 tbsp bread crumbs
½ tsp salt (or to taste)
1 tsp sugar (or to taste)
½ tsp pepper
1 tbsp butter (melted)
For Tomato Sauce:
1 tsp sugar
½ tsp salt
Pinch of pepper
1 tbsp corn starch
Procedure:
1. Take a piece of muslin cloth, put tomato slices in the center and squeeze out all the juices of tomatoes in a bowl.
2. Now in the remaining pulp of tomato add bread crumbs, salt, sugar, pepper and butter and mix them well.
3. Put this mixture of tomato pulp in a pudding mold and place this mold on double boiler until pudding sets completely. You can check it by inserting knife edge in the center and if it comes out clean then the pudding is ready.
4. Meanwhile prepare tomato sauce by mixing salt, sugar and pepper to the squeezed tomato juice and cook it till it starts boiling.
5. After that add corn starch to make it little thick and then remove from heat.
6. When the pudding is ready cool it to room temperature and pour the prepared tomato sauce onto the pudding after dish out in serving plate.