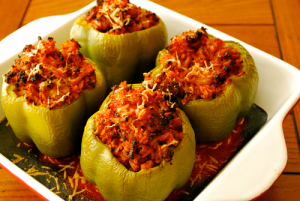 Preparation time : 60 min. | Serves 6 persons
This stuffed bell pepper recipe is prepared with ground turkey and rice stuffing. It can also be prepared with ground beef and chicken with the same recipe except baking time will reduce to just 30 min in case of minced chicken.
Ingredients:
6 medium bell peppers
2 tbsp oil
1 lb ground turkey
1 chopped onion
1 cup cooked rice
2 tsp salt
1 tsp crushed red pepper
4 garlic clove (minced)
15 oz tomato sauce
Shredded Mozzarella cheese (optional)
Procedure:
1. Slightly cut the bottom side of each pepper so that it can easily stand. Then cut the top to make it hollow from inside.
2. To prepare stuffing, sauté onion and garlic in oil for just 2 min then cook with ground turkey until all the water from meat would get dry.
3. Add tomato sauce, salt, red pepper and rice and then mix well with the turkey mixture.
4. Now fill each hollow bell pepper with the prepared stuffing and then top with mozzarella cheese.
5. Place the stuffed bell pepper on a casserole dish and then bake in preheated oven for 45-50 min at 350 degrees F until peppers are tender.
photo source : 1