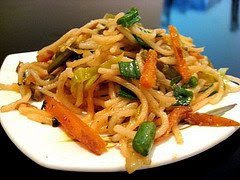 Preparation time (approx) : 30 mins | Serves 4 persons
Noodle is the food that I really enjoy cooking and it is very easy to make. Enjoyed mostly by children and other age groups too. This recipe has lots of taste because of the addition of different sauces, vegetables and chicken. I am sure many vegetarians would enjoy this too.
Ingredients:


Noodles as required
¼ cup capsicum (chopped)
¼ cup carrot (chopped)
¼ cup boil chicken (shredded)
¼ cup spring onion (chopped)
2 tbspn tomato ketchup
2 tbspn chili garlic sauce
2 tbspn wrester shire sauce
2 tbspn oyster sauce
2 cloves garlic
2 tbspn oil
Black peeper to taste
White pepper to taste
½ cup water
Salt to taste

Procedure:

1. Heat oil in a pan. Add garlic in it and fry till color changes to brown.
2. Add all the spices and sauces (ketchup, garlic sauce, wrester shire, oyster, pepper and salt) in it and mix well.
3. Add vegetables and cook for a minute and add water in it.
4. On high flame, cooks till all the water has been dried and stir continuously.
5. Add boil noodles and mix well and serve it.