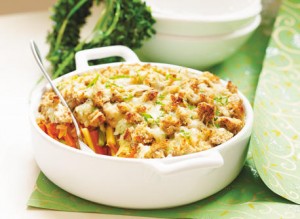 Preparation time : 30 mins. | Serves 6 persons
This vegetable gratin recipe is one of the healthy recipe specially for winter season when lots of fresh vegetables are available. The vegetables mentioned in this recipe is not necessary and you can add vegetables of your choice and use the same topping to enjoy the delicious vegetable gratin at home.
Ingredients:
1 head cauliflower (cut into florets)
1 bunch broccoli (cut into florets)
8 oz baby carrots (halved lengthwise)
1 red bell pepper (cut in strips)
4 oz baby corns
2 tbsp butter
4 oz. processed cheddar cheese (shredded)
½ cup Italian-seasoned bread crumbs
1 tsp salt
½ tsp oregano
½ tsp garlic powder
1 tsp pepper
Procedure:
1. Take a deep saucepan, boil 4 qts. of water or in which vegetable boils easily.
2. Add veggies in the boiled water and cook for 5 mins. then drain the excess water and transfer the veggies into the greased casserole dish.
3. Process together in your food processor or using your hands gently crumbs, salt, pepper, garlic powder, oregano and cheese.
4. Sprinkle this mixture onto the boiled veggies and bake at 400 degrees F for 10-15 mins. or till gets brown from top.
photo source : 1