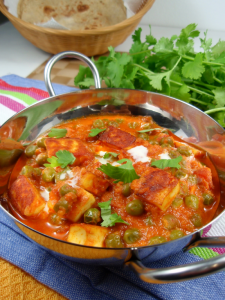 Preparation time : 40 min. | Serves 4 persons
This recipe for matar paneer is traditional Indian curry recipe. You may also add other veggies like cauliflower to make it rich. It gives good taste when it is served with boiled rice or chapati.
Ingredients:
1 pck paneer or cottage cheese (cut into cubes)
1 cup yogurt
1 tomato
1 onion
3 green chilies
4 cloves garlic (minced)
½ cup matar or green peas
¼ cup oil
1 tsp turmeric powder
1 tsp cumin powder
1 tsp coriander powder
1 tbsp red chili powder
Oil for deep frying
Salt to taste
Procedure:
1. In a wok heat oil and fry paneer till become golden brown from every side.
2. In a food processor, add onion, tomato, yogurt and half glass of water and process to make smooth paste.
3. Heat 4 tbsp of oil (same use for deep frying) in a sauce pan and add minced garlic, fry it for a minute till become light golden.
4. Now add onion paste, green chilies, red chili powder, turmeric, cumin powder, coriander powder and salt it. Simmer for 5-10 min till oil starts to separate from the gravy then add peas and cook it with the gravy for 3-4 min then add 1 cup of water and simmer for 5-10 min till become tender.
5. After that if gravy looks thin then reduce the excess water from the gravy by cooking it over high heat.
7. Now add fried paneer in it and mix them together.
7. Yummy matar paneer is ready to serve with boiled rice or chapatti.
photo source : 1