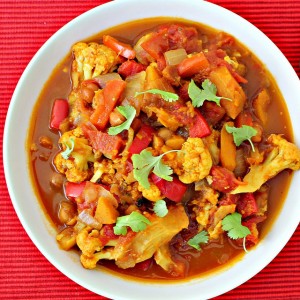 Preparation time : 30 min. | Serves 6 persons
This vegetable jalfrezi is prepared in traditional Asian style, its a bit spicy but you can adjust it according to your taste. You may also add veggies of your choice but the recipe gets good taste only in winter when lots of fresh veggies are easily available.
Ingredients:
2 tsp cumin seeds
1 tsp mustard seeds
1 tsp coriander seeds
1 tsp turmeric
½ tsp salt
4 tbsp tomato paste
2 fresh green chili
½ cup oil
3-4 whole red chillies
1 medium cauliflower (separate flowers)
2 carrots (sliced)
2 onions (roughly sliced)
1 tbsp ginger (minced)
1 cabbage (cubed)
3 capsicum (cubed)
1 cup peas
2 potatoes (thinly sliced)
3 green chillies (chopped)
1 tsp crushed black pepper
1 tbsp white vinegar
1 tsp roasted white cumin powder
1 bunch coriander (finely chopped)
Salt to taste
Procedure:
1. Roast cumin seeds, brown mustard seeds, and coriander seeds in a frying pan for just a minute.
2. Powder all the roasted spices in grinder and then blend this mixture with tomato paste, green chilies, turmeric and salt to make smooth paste.
3. Now take a wok, heat ½ cup oil in it and fry 3-4 whole red chillies.Then add carrots, peas, cauliflower, cabbage and onions and stir fry over high heat for 2-3 min.
4. Then add ginger, green chillies and black pepper and mix them well with veggies.
5. Deep fry potatoes in a separate wok till become golden brown.
6. Put the fried potatoes over the vegetables and add white vinegar, prepared tomato paste, roasted white cumin powder and salt and let it simmer for 10-15 mins.
7. When the veggies become tender completely take out the spicy vegetable jalfrezi into the serving dish and garnish with coriander.
photo source : 1