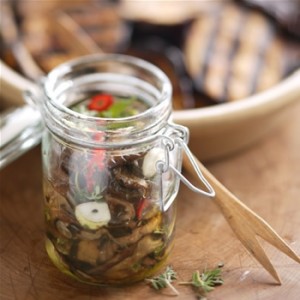 Preparation time : 90 min. | Serves 4 small jars
This hot pickled eggplants recipe takes quite more time but can be preserved for several weeks. It can be used in sandwiches and burgers as stuffing ingredient. It is also served with vegetable curry and boiled rice.
Ingredients:
4 eggplants (washed and cut into thick strips)
Coarse salt as needed
2 cup water
1¼ cup white vinegar
½ cup fresh parsley (chopped)
1/3 cup fresh rosemary (chopped)
¼ cup fresh thyme (chopped)
¼ cup thinly sliced garlic
1 tsp crushed red pepper flakes
1 cup olive oil

Procedure:
1. Mix egg plants with salt, put these eggplants in muslin cloth and tight it form top. Hang it on a stand for at least an hour so that extra water drains out from the eggplants.
2. After that in a sauce pan boil egg plants with 1 cup vinegar and water and then let it cool to room temperature.
3. Drain all the water from the eggplant and squeeze them well so that extra liquid drain out.
4. Now mix eggplants with herbs, garlic, and pepper flakes, and toss gently.
5. Add the remaining vinegar and olive oil, and toss it gently to mix.
6. In a sterilize jar, transfer the pickled egg plant into the jar and seal it with lid. Place the jar in refrigerator for 3-4 weeks until eggplant marinate well with all the ingredients.
photo source : 1