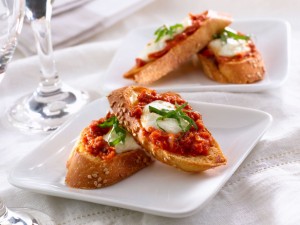 Preparation time : 10 min | Serves 4 persons
This Bruschetta recipe is inspired from a famous American Restaurant Olive Garden. This bruschetta is different from other because of its different tomato topping which is prepared with toma tomatoes, sun dried tomatoes and some herbs flavor.
Ingredients:
3 firm roma tomatoes (finely diced)
¼ tsp salt
1 tbsp minced fresh basil
2 tsp minced garlic
1 tbsp grated Parmesan cheese
2 tsp diced marinated sun-dried tomatoes
Pinch of dried parsley flakes
2 tsp extra-virgin olive oil
1 tsp white vinegar
9-10 slices Italian bread
1 cup Ricotta cheese (cubed)
Procedure:
1. Combine diced tomatoes with basil, garlic, sun-dried tomatoes, olive oil, vinegar and salt in a mixing bowl and then put in fridge to chill for at least an hour.
2. Preheat oven to 450 degrees F.
3. Combine together Parmesan cheese and dried parsley.
4. Now place the bread slices onto the baking dish and top each slice with parmesan cheese mixture evenly.
5. Place the dish in oven and bake for just 5 min until bread slices become crisp.
6. Now top the baked bread slices with the prepared tomato mixture and place a cube of ricotta cheese in the center before serving.