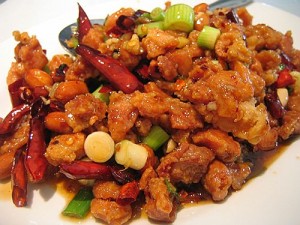 Preparation time : 30 min + 30 mi Marinating time | Serves 4 persons
This Kung Pao Chicken recipe is one of a famous Chinese recipe. It can be prepared with either roasted peanuts or cashews, in this recipe peanut are used. The technique of preparing good kung pao chicken is to roast and fry peanuts and chilies in hot oil in wok which gives awesome aroma and taste to the chicken. Nowadays lots of variations are introduced of this hot recipe which includes bell peppers and other veggies to the topping.
Ingredients:
5 tsp soy sauce
2 tsp apple cider vinegar
3½ tsp cornstarch
¼ tsp salt
3 skinless boneless chicken breast halves (cut into bite strips)
2 tbsp chicken broth
1 tbsp white vinegar
1½ tsp sugar
3 tbsp vegetable oil
1/3 cup salted peanuts
6 to 8 small dried hot chili peppers
1½ tsp minced fresh ginger
2 green onions (coarsely chopped)
Procedure:
1. Marinate chicken with half quantity of each soy sauce, apple cider vinegar, cornstarch and salt and leave for 30 min.
2. Combine remaining half quantity of each marinade including soy sauce, apple cider vinegar and cornstarch in a bowl and set aside.
3. IN a wok heat 1 tbsp of oil and roast peanuts until become golden in color then remove form wok.
4. Add remaining oil in wok and fry hot peppers until become dark in color then add chicken and cook on high heat for just 2 min then reduce the flame to medium. Add ginger and cook until chicken tender completely and sauce gets thick.
5. In the end add peanuts and green onions and add remaining marinade to the chicken. Cook it over high heat until sauce gets thick then remove the pan from heat and serve immediately.
photo source : 1