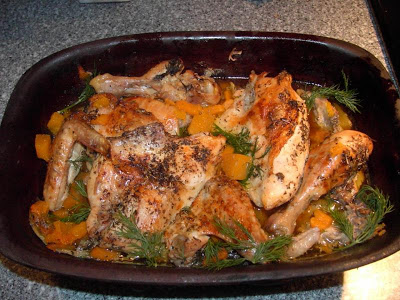 Preparation time : 30 mins | Serves 4 persons
This is one of the quick easy chicken recipe which can be prepared at home. This chicken is usually served with some fried mixed vegetables which gives an excellent complement not only in taste and also looks attractive.

Ingredients:
750 gm chicken pieces with skin
2 medium size onions (julienne)
6 medium size tomatoes (cut into small squares)
2 tbsp ginger garlic paste
1 tsp dry ginger powder
1 tbsp red chili powder
1/2 tsp black pepper powder
1 tbsp coriander powder
1/2 tsp turmeric powder
Salt to taste
1/2 cup vegetable oil
Mix fried vegetables for dressing
1. Fry chicken pieces in 1/4 cup oil for 4-5 mins on medium heat until chicken pieces become light golden in color.
2. After that take out the fried chicken pieces in a platter and add the remaining oil to the same pan and fry onion for 3-4 mins, until become light golden in color.
3. Then add ginger garlic paste, dry ginger powder, red chili powder, turmeric powder and coriander powder to the fried onions and cook for just 2-3 mins. until oil starts to separate from the mixed spices.
4. After that add tomatoes and cook for 2 mins. until become tender.
5. Now add fried chicken pieces and cook until chicken become completely done, add little quantity of water if necessary.
6. In the end, reduce the flame to very low and sprinkle remaining coriander powder on top and cover the pan for 5 mins.
7. This delicious chicken is served with mixed vegetables for that take a wide serving platter and spread the fried vegetables and top with the cooked chicken pieces.