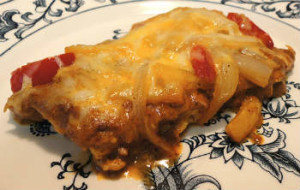 Preparation time: 40 mins. (approx.) | Serves 6-8 persons
This Chicken Paillard Recipe is a rich version of chicken Paillard as it is served as a complete meal. It looks similar to any casserole; because in this recipe the typical chicken Paillard is cooked with a cheesy mixture and then bake with some vegetables and cheese. Therefore, it would be best to serve as a complete meal.
Ingredients:
2 large boneless chicken breasts (sliced lengthwise)
Salt and pepper to taste
2 tsp taco seasoning
2 cloves garlic (crushed)
10 oz enchilada sauce
3 oz cream cheese
4 oz cheddar cheese (shredded)
2 tsp oil
1 large onion (sliced)
1 large bell pepper (sliced)
1 large tomato (seeds removed and sliced)
2 oz Mexican blend cheese (shredded)
Procedure:
1. Place the chicken slices in a plastic bag and pound to make them thin. Make sure they would not break.
2. Marinate the thin chicken slices with 1 tsp of taco seasoning, salt, and pepper.
3. Heat oil in a skillet, add the marinated chicken and cook for 3-5 mins. until become brown from both sides.
4. Then add garlic, enchilada sauce, cream cheese, and cheddar cheese and cook for 1-2 mins. or until well combined, then remove the pan from heat and set aside.
5. In another pan, heat 1 tsp oil and sauté onion and pepper for 5-6 mins. then add the remaining taco seasoning and tomato and mix well. Remove the pan from heat and set aside.
6. Now pour the chicken mixture into the casserole dish, spread the cooked onion mixture onto the chicken, and in the end top with Mexican blend cheese.
7. Bake in preheated oven at 400 degrees F for 15 – 20 mins.
8. When the mixture starts bubbling and turns golden brown from the top, take it out of the oven and serve after 5 mins.
photo source : 1