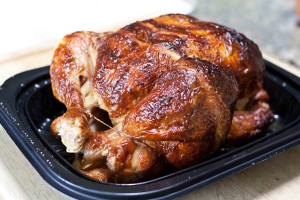 Preparation time : 2 hrs. + Marinating time | Serves 4-6 persons
This Rotisserie Chicken Recipe is a wonderful recipe for any dinner party. You may marinate it for overnight and bake another day so that flavors are absorbed well in the chicken.
Ingredients:
1 whole chicken (cleaned and dried using towel)
3 tsp brown sugar
2 tsp paprika
2 tsp salt
1 tsp onion powder
½ tsp garlic powder
½ tsp dried thyme leaves (rubbed)
½ tsp freshly ground black pepper
1 medium onion (peeled and quartered)
4-6 garlic cloves
4-6 lemon slices
4 cloves
1 tbsp black peppercorns
½ cup oil
Procedure:
1. To prepare marinade whisk together brown sugar, paprika, salt, onion powder, garlic powder, thyme, and black pepper until combined.
2. Make cuts on the chicken at breast and legs sides and pok randomly using fork.
3. Pour the prepared marinade over the chicken. Wrap the marinated chicken bowl with plastic sheet and refrigerate for 6 -8 hours.
4. Preheat oven to 350 degrees F.
5. Cover the roast pan with foiling sheet place the marinated chicken onto the foil and insert rest of the ingredients including onion, cloves, garlic, lemon slices and peppercorns at the cavity. Brush the chicken with some oil and then place it in the preheated oven for 90-120 mins. until chicken is done or an instant-read thermometer reaches 165 F. Meanwhile baking keep greasing the chicken with oil.
6. When chicken is ready take it out from oven, cool it for 5-10 mins. then remove the cavity stuff and serve it with fries and stir fry vegetables.
photo source : 1