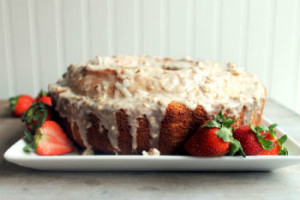 Preparation time: 80 mins. | Serves 8-10 persons
This Louisiana Crunch Cake is a plain soft Bundt cake, which has a crunchy layer of sugar and coconut on top covered with a vanilla glaze. The sponge is soft and light due to the buttermilk and sour cream.
Ingredients:
For Cake:
1 cup butter softened
2¼ cup granulated sugar
4 large eggs
¼ cup sour cream
2 tsp vanilla extract
1 tsp salt
1 tsp baking powder
½ tsp baking soda
3 cup cake flour
1 cup buttermilk
¼ cup sweetened flaked coconut
¼ cup granulated sugar
For Glaze:
3½ cup confectioner's sugar
4 tbsp butter
1 cup toasted chopped pecans
1 cup milk
Procedure:
1. In a stand mixer bowl, beat butter at high speed until become light and fluffy. It would take up to 5 mins.
2. Add 2 cup sugar and beat again for 3-4 mins. or until the sugar dissolves completely and the batter would become fluffy again.
3. Add eggs one by one and beat well after each addition. The batter will be a little foamy and dense.
4. Now add sour cream and vanilla and beat enough to mix.
5. Sift together dry ingredients including flour, baking soda, baking powder, and salt.
6. Alternatively add dry mixture and buttermilk to the batter and mix at low speed. Don't beat too much otherwise, your cake will be hard just mix it enough to get smooth shiny batter.
7. Take a greased and dusted bundt pan, make layers of remaining sugar and coconut at the base, and then pour the cake batter on it.
8. Place the pan in preheated oven at 350 degrees F for 50-60 mins. or until the toothpick inserted comes out clean.
9. Meanwhile prepare the glaze, for that you need to beat the butter to make it fluffy, then add sugar and beat again to mix.
10. Add milk to make it a little thin and then fold it with toasted pecans.
11. When the cake is ready, cool it for 5 mins. then pass the knife edge around the sides and then transfer it to the platter.
12. Drizzle the prepared frosting on top and leave it for 15 mins. Serve the delicious Louisiana Crunch Cake after cutting it into slices.
photo source : 1