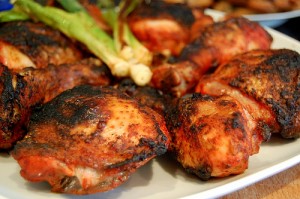 Preparation time : 30 mins + 3 hrs Marinating time | Serves 4 persons
This tandoori chicken recipe is from South Asian cuisine where it is most popular in Pakistan and India. The chicken is spicy as its marinade is prepared with the traditional spices. This bbq chicken is served with green yogurt sauce (raita), onion slices and paratha. If you want less spicy grilled chicken then you can try saffron chicken which has delicious aroma of saffron wiht little spices.
Ingredients:
1 whole chicken (make its 4 large pieces)
2 tbsp lemon juice
1 cup yogurt
2 tbsp ginger (minced)
2 tbsp garlic cloves (minced)
1 tsp ground cumin
½ tsp ground coriander
1 tbsp cayenne pepper
1 tsp turmeric powder
1 tbsp garam masala powder
Procedure:
1. Marinate chicken in lemon juice and salt for 15 mins. Don't forget to make cuts on each piece of chicken so that spices absorb completely inside the chicken.
2. Meanwhile prepare spicy marinade for the chicken for that you need to mix rest of the ingredients together rand make smooth paste.
4. Now marinade chicken in the spicy mixture and leave for 2-3 hrs.
5. After that prepare grill for the chicken and then grill each piece of chicken using skewer and keep brushing during cooking so that chicken would not get dry and grill until it completely cooks. You may also bake this chicken instead of grilling for that you need to preheat oven at 400 degrees F and bake for 30-40 mins until chicken becomes tender.
photo source : 1