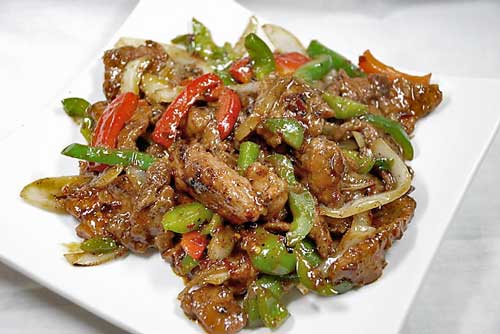 Preparation time: 30 mins. | Serves 4 persons
This Salt and Pepper Chicken is a quick and easy recipe that is prepared with very few ingredients and seasonings. All the flavor in the chicken is developed by salt, pepper, and soya sauce. Its flavor enhances more when it is served with fried rice or steamed rice.
Ingredients:
For Chicken:
2 boneless skinless chicken breasts (cubed)
1 tbsp crushed black pepper
1 tsp salt
2 tbsp soya sauce
1 egg (lightly beaten)
2 tbsp flour
2 tbsp corn flour
Oil for deep frying
For Sauce:
1 tbsp oil
2 stalks spring onion (sliced)
6 cloves garlic (minced)
½ cup chicken stock
½ tsp crushed black pepper
1 tbsp ketchup
1 medium green capsicum (julienned)
1 medium red capsicum (julienned)
Procedure:
1. Marinate chicken with flour, 2 tbsp corn flour, 1 tbsp black pepper, 1 tsp salt, egg, and soya sauce, and leave for 15 mins.
2. Meanwhile heat 1 tbsp oil in a frying pan and sauté garlic in it for 1-2 mins., then add spring onion slices and fry for just a minute, then remove the pan from heat.
3. Now heat oil for deep frying in a wok and then fry all the chicken pieces for 3-5 mins. over medium heat or until becomes lightly golden.
4. Transfer the chicken pieces into the pan containing sauteed garlic and onion and cook with ½ cup of chicken stock for 2-3 mins. over high heat.
5. When the mixture starts bubbling, add leftover marinate, ketchup, black pepper, and salt if required.
6. When the mixture becomes a little thick add capsicum strips and remove the pan from heat. Stir well to mix all the ingredients and serve immediately with steamed or fried rice.
photo source : 1