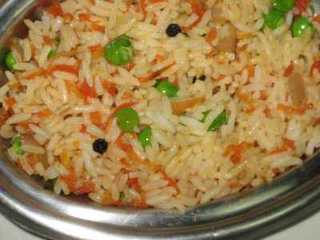 Preparation time (approx) : 40 mins | Serves 3 persons
It's very famous vegetable
fried rice
,very healthy rice food, full of nutrition, originated from Chinese Cuisine and its also called Chinese Rice.There are lots of ways to prepare fried rice, this is one of the methods to cook it with little spices and can serve as a rice meal. Choose the best rice available for this recipe.

Ingredients:


½ Kg rice
½ cup cabbage chopped
½ cup carrot chopped
½ cup capsicum chopped
½ cup spring onion
½ cup boil shredded chicken (optional)
Salt to taste
1 tspn black pepper freshly crushed using a pepper mill
1 tspn white pepper
1 tbpsn soya sauce
1 tbspn chili sauce
1 tbspn Worcestershire sauce
1 tpsn oyster sauce
1 tspn Chinese salt
3 tbspn oil

Procedure:


1. In a deep pan heat oil and add cabbage, carrot and capsicum in it. Stir for 2-3 minute on high heat
2. Add all spices in it (salt, pepper and sauces) and cook for 5-10 minutes until all spices are mix well and water has been dried.
3. Then add spring onion and chicken and stir. Remove pan from stove.
4. Boil rice (you can also use chicken stock to boil rice it will be more tasty) and let it cool so that all the steam took out (evaporate) from the rice.
5. Add rice to the vegetable mixture on high heat and stir well for 5 minutes.

Serving:


Dish out fried rice and serve with any curry like beef curry.