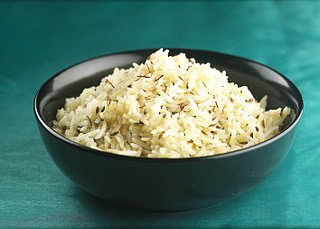 Preparation time 20 mins | Serves 6 persons
Fried rice are popular in different parts of world . There are many ways to prepare fried rice and each recipe has its unique method. These
easy fried rice
are common is South Asian Cuisine. To cook fried rice always get the best rice available in order to get best results . (
TIP :
For healthy rice recipes , use brown rice )
Ingredients:


4 cup/ ½ kg rice
1 ½ tbspn salt
5 tbspn oil
3-4 cloves
2 cinnamon sticks
3 cardamoms
2 bay leaves
1 tbspn cumin seeds
2 tbspn white vinegar or lemon juice
8 cups water or as required

Preparation:
1. Heat oil in the pan put cloves, cardamoms and cinnamon sticks in it and roast them for 2 minutes.
2. Add rice in the pan with hot boil water, salt, vinegar or lemon juice, bay leaves and cumin seeds. To check the correct quantity of water, dip your finger to touch the rice level and water level should touch the first line of your finger. Other method is take water exactly double the quantity of rice i.e. if 2 cup rice, then you put 4 cups of water.
3. Stir all the ingredients and cover the pan to cook on very high flame until bubbles starts to come. It takes approx. 5-8mins.
4. After rice starts to boil, reduce the heat to minimum and let the rice to cook completely for 10mins more.

Servings:
Dish out this easy fried rice and enjoy it with any meat curry like kerhai gosht, beef curry or korma.