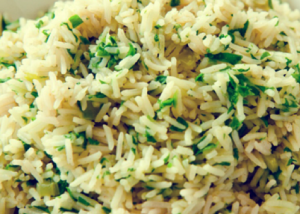 Preparation time : 20 mins. | Serves 2-4 persons
This Spinach Rice Recipe is a simple, quick and easy recipe. This rice is usually served with curry like vegetable or chicken curry but it tastes good with any kind of meat or vegetable curries.
Ingredients:
2 cup long grain rice (soaked in water for 30 mins.)
2 cup spinach (chopped)
1 small onion (chopped)
2-3 green chilies (julienne)
1 tsp garlic (minced)
½ tsp cumin seeds
½ tsp black pepper corns
2-3 cloves
salt to taste
¼ cup oil
Procedure:
1. Heat oil in a saucepan, saute onion for just 1-2 mins. to make it soft.
2. Add in garlic, cumin, black pepper and cloves and cook for just a minute.
3. Then add rice, green chilies and chopped spinach and stir well to mix.
4. Add in salt and water and let it cook on high heat till rice appears on the surface and water starts to absorb, then reduce the flame to low and simmer for 10-15 mins, till rice cooked well.
photo source : 1