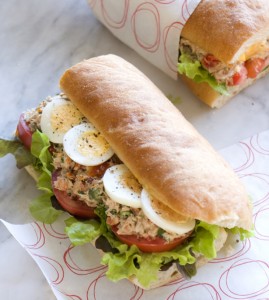 Preparation time : 15 mins. | Serves 4 sandwiches
This Tuna Sandwich Recipe is prepared with veggies, egg and Thousand Island Dressing sauce which no doubt a one of a tasty sauce for any kind of salad. This tuna sandwich would be a healthy supper food for youngsters.
Ingredients:
1 can white tuna (drained and flaked)
3 celery sticks (finely diced)
½ red or green capsicum (diced finely)
¼ cup sweet relish
½ cup or less Thousand Island Dressing
2 large boiled egg (thinly sliced)
¼ tsp salt
Black pepper to taste
For Assembling:
4 Grande Italian sandwich rolls
Tomato slices
4 lettuce leaves
Procedure:
1. In a mixing bowl, prepare sandwich dressing using tuna, relish, salad dressing, salt & pepper along with celery and capsicum.
2. Now place a salad leaf onto one piece of sandwich roll, put 2-3 tbsp of prepared tuna dressing on it, place slices of tomato and boiled egg and then cover with top piece of sandwich roll.
3. Tempting Tuna Sandwich is ready to serve with chili garlic sauce or your favorite dip.
photo source : 1