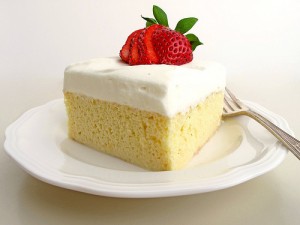 Preparation time : 60 mins. + Setting time | Serves 8-10 persons
This Recipe For Tres Leches Cake is a Mexican version and is also knows as three milk cake. This cake is prepared in two steps, first a basic sponge is prepared, then it is soaked in milk mixture which actually makes it tempting and delicious. The cake gives good taste when it is chilled in fridge for overnight so that it sets completely, you can serve this cake with fresh fruit or fruit cocktail topping.
Ingredients:
For Sponge:
3 eggs
2 tbsp water
½ cup caster sugar
¾ cup all purpose flour
½ tsp baking powder
¼ tsp salt
½ tsp vanilla essence
For Milk Mixture:
7 oz condense milk
7 oz evaporated milk
7 oz double cream
1 tsp vanilla extract
For Topping:
Double cream as required
Any fresh fruit
Procedure:
1. Beat eggs using stand mixer at high speed till become fluffy and stiff peaks are formed.
2. Gradually add sugar, slow down the speed and beat again till sugar mix well and batter would remain fluffy.
3. Now add water and vanilla and just beat to mix them together.
4. Sift together dry ingredients, flour, baking powder and salt and set aside.
5. Now using wooden spoon or spatula, gradually mix the dry mixture into the egg mixture so that egg would not settle down and batter remains fluffy.
6. Pour the batter into the 9" greased baking pan and put it in preheated oven for 30-40 mins. at 325 degrees F.
7. Meanwhile prepare milk mixture by combining condense milk, evaporated milk, double cream and vanilla; slowly using whisk.
8. When cake is ready cool it to room temperature, poke the top surface of cake using fork or any pointed stick, pour the milk mixture onto the sponge cake and let it place in fridge to set for 3-4 hours or overnight.
9. After that serve the cake with final topping of whipped cream and strawberries.
photo source : 1