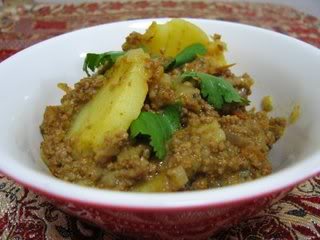 Preparation time : 45 mins (approx) | Serves 6 persons
This ground beef recipe is from Pakistani cuisine which is prepared with potatoes, peas can also be added to the recipe which would give more good flavor. It can also be used as the stuffing of beef puff patties and sandwiches.
Ingredients:
½ kg mince beef
2 onions (julienne)
3 tomato (chopped)
2 potato (cut in small cubes)
1 tbspn red chili powder
½ tspn turmeric powder
½ tbspn cumin powder
1 tspn black pepper
1 tspn mix spices powder (garam masala)
Fresh cilantro leaves for garnishing
Pinch of nutmeg and mace powder
½ cup oil
Procedure:
1.In a pan fry onions in oil when onion starts to brown add tomato and mix well.
2.After a minute, add mince beef and mix, the water will start to release from the meat stir it continuously on medium flame for 5 minutes.
3.Now add red chili powder, turmeric powder and salt and leave for 10 minutes until all the water has been dried and oil starts to separate from the meat.
4.In a separate pan, in a very little oil fry potato cubes for 5 minutes.
5.Add the potato cubes and half cup water in the meat and leave to cook for 10 minutes until potato becomes completely soft.
6.Add cumin powder, black pepper, garam masala powder (cloves, cardamom, and cinnamon), nutmeg and mace powder and dry fenugreek (methi) leaves and cook for 5 minutes.
7.When oil starts to leave, add some coriander leaves on it. Ground beef with potato is ready to serve.
Serving:
Ground Beef is usually served with naan or bread.