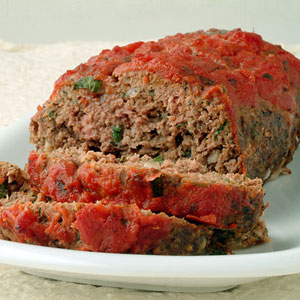 Preparation time : 70 mins | Serves 4 persons
This meatloaf recipe takes time only in baking otherwise it doesn't need to do anything after mixing the ingredients in meat, hence it is quite easy and simple to prepare at home. You can also do some variations in this meatloaf recipe for instance; adding some layer of veggies or cheese inside to make it more attractive and yummy.
Ingredients:
500 gm ground beef
1 slice of bread (soaked in 1/4 cup of milk)
1 egg
1 small onion (chopped)
1 tbsp ginger garlic (finely chopped)
1/4 tsp basil
1/4 tsp oregano
1/2 tsp paprika
1/4 tsp black pepper
1/2 tsp salt
2 tbsp parsley (chopped)
ketchup or pizza sauce for topping
Oil for brushing
Procedure:
1. In a large mixing bowl mix all the ingredients in ground beef except ketchup and oil.
2. when all the ingredients mix well in the meat, transfer it into a greased baking loaf pan and level it to make a smooth top surface.
3. Brush oil onto the top surface of meat and then place it in preheated oven for 35-40 mins. at 350 degrees F.
4. After 35 mins. when meatloaf starts to turn into brown in color take it out from oven and spread ketchup or pizza sauce on top of its surface. Again place the loaf pan in oven for just 10 mins more so that flavor of sauce deeply absorb inside.