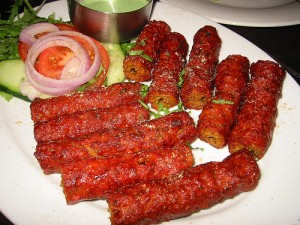 Preparation time : 40 min. + 3 hrs. Marinating time | Serves 6 persons
This seekh kebab recipe is one of famous Pakistani BBQ recipe which can be prepared with chicken, lamb/mutton or beef. The spices can be altered according to your taste; it gives good taste when it is grilled. It is served with yogurt sauce, chutney and fresh salad.
Ingredients:
500 gm minced chicken or lamb
3 large onions (finely sliced)
1 tsp red chili powder
¾ tsp roasted cumin powder
¾ tsp roasted sesame seeds powder
¾ tsp ground poppy seeds
1 tsp roasted ground coriander
2 tbsp green chili paste
1 tbsp garam masala powder
2 tbsp ginger garlic Paste
2 tbsp raw papaya paste
Salt to taste
2 eggs (lightly beaten)
1 tbsp coriander leaves (finely chopped)
2 cup oil
Procedure:
1. Take a suitable drainer and rinse the meat with water and set aside until all the water drains out from the meat otherwise kebabs would have been break.
2. In a wok fry onions until become brown and crispy, then drain out all the oil from the onion and set aside.
3. When onion become cool at room temperature crush them using hands.
4. Now in a mixing bowl combine all the ingredients including spices, pastes and eggs. Mix this mixture properly to make dough of meat which should not be sticky and then leave for at least 3 hrs.
5. After that divide the dough into 10-12 equal pieces and roll each piece to give it long shape. Each piece should be at least 1.5 inch thick.
6. Take a baking tray, lined it with aluminum foil and place the kebabs onto the foiling paper. Sprinkle 4-5 tbsp of oil on the kebabs so that they would not get dry then bake in oven for 20-25 min until become done. You can also grill them which taste better.
photo source : 1