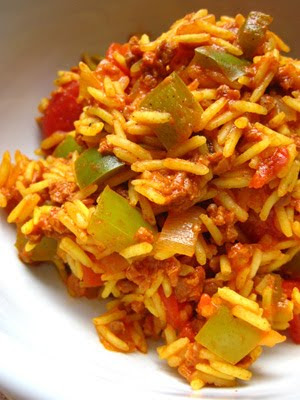 Preparation time : 20 mins | Serves 4 persons
This is an easy Spanish Rice Recipe in which no more spices are used. This is also a healthy rice recipe which can be prepared in few minutes. Do try this wonderful rice recipe and enjoy with any meat curry. For more delicious Spanish rice recipes, refer to the book Paella!, contains 58 exciting Spanish rice recipes including 25 recipes for tapas and first courses and another 25 for such desserts.
Ingredients:
1 tbsp vegetable oil
1 1/2 cups boiled rice
1 onion (chopped)
1 red bell pepper (chopped)
1/2 green bell pepper, chopped
1 tsp prepared mustard
1/2 tsp salt
14.5 oz peeled tomatoes
1 cup tomato juice


Procedure:
1. Take a sauce pan, saute onions for 2-3 mins. until become soft and turn into pink in color.
2. Now add mustard, salt, tomatoes and tomato juice and cook for 4-5 mins on low heat until tomatoes becomes soft and gravy stars to boil.
3. Take a large sauce pan and mix rice in the prepared sauce and stir on high flame for 2-3 mins.
4. In the end add red and green bell peppers and mix well in the rice. Cook for just 2 mins more and then serve in a beautiful platter.