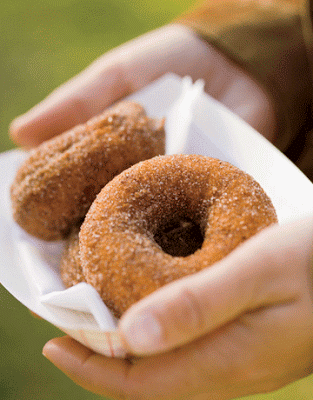 Preparation time : 30 mins + Chill time | Serves for 6 persons
This is one of a great pumpkin recipe specially for Halloween. This pumpkin donuts recipe is little bit different from other doughnuts and no frosting is used to decorate these doughnuts so its quite easy snack recipe to prepare at home.
Ingredients:
2 tbsp butter (softened)
1/2 cup sugar
2 tsp baking powder
1/2 tsp salt
1/2 tsp ground cinnamon
1/4 tsp baking soda
1/4 tsp ground ginger
Pinch of ground nutmeg
1/2 cup canned pumpkin
1/3 cup buttermilk
1 egg
1 egg yolk
1/2 tsp vanilla
2 cup all-purpose flour
Vegetable oil for deep frying
Procedure:
1. Take a large mixing bowl and beat butter using electric beater until become smooth and creamy.
2. After that add the sugar, baking powder, salt, cinnamon, baking soda, ginger and nutmeg and beat until all the flavors mix well into the butter.
3. In a separate bowl combine buttermilk, egg, egg yolk and vanilla to make a smooth paste.
4. Now mix both the mixtures together and fold the pumpkins in batter. Then add flour and mix it using wooden spoon or spatula so that a soft dough would form and place the dough in fridge to chill for at least 3 hours.
5. After that roll the dough to make a thick flat shape and cut it using doughnut cutter and place them on a platter.
6. Heat oil to moderate temperature for deep frying and fry the doughnuts until become golden brown in color.
Serving:
Serve the delicious pumpkin doughnuts as tea time snack, to make it more attractive sprinkle some spiced sugar on top of the donuts.