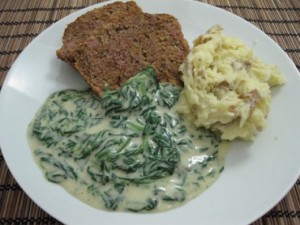 Preparation time : 20 min. | Serves 6 persons
This Creamed Spinach Recipe was inspired by the original copycat Boston Market creamed spinach recipe. In this recipe a slight change is made by adding black pepper and nutmeg flavor to enhance the aroma and taste.
Ingredients:
5 tbsp butter
¼ cup all-purpose flour
Salt to taste
1 cup half and half cream
4 oz cream cheese
2 tbsp minced onion
1 tbsp minced garlic
½ tsp black pepper
¼ tsp ground nutmeg
20 oz frozen spinach (thawed)
¼ cup water
¼ cup Parmesan cheese (grated)
Procedure:
1. Heat 3 tbsp butter in a sauce pan and saute flour in it until become fragrant and turn into light golden.
2. Slowly add half and half cream to the cooked flour, stir continously to mix well so that no lumps would form.
3. Then add cream cheese, keep stirring so that every ingredient mixes and sauce becomes smooth.
4. Add seasoning of pepper and nutmeg and cook until mixture starts bubbling, then immediately remove the pan from heat and set aside.
5. In another pan sauté onion and garlic in remaining 2 tbsp of butter for 2-3 min until become pink or soft.
6. Add spinach and water and simmer for 8-10 min.
7. Add the prepared cream cheese sauce and Parmesan cheese to the cooked spinach and mix evenly.
8. Take out the creamed spinach in serving platter and serve with mashed potatoes and garlic bread.