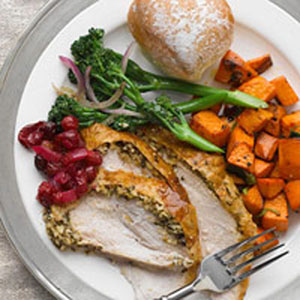 Preparation time : 30 min + 2 hrs. Grilling time | Serves 8 persons
This recipe of grilled turkey is prepared with turkey breasts in which no more spicy flavors are used but tastes great with the wonderful flavor of allspice, almonds and lemon. This recipe can also be applied for whole turkey which needs little more time in marination of turkey so that all flavors absorb till inside.
Ingredients
12 lb turkey breast (cut into halves)
½ cup butter (softened)
½ cup slivered almonds (finely chopped)
1/3 cup fresh parsley (chopped)
1 tsp lemon zest
4 tsp lemon juice
2 large garlic cloves (minced)
½ tsp ground ginger
½ tsp ground allspice
½ tsp freshly ground black pepper
Procedure:
1. Prepare marinade for the turkey breast, combine butter, almonds, parsley, lemon peel and juice, garlic, ginger, allspice and pepper. Cover the marinade and chill in freezer for 10 min so that it can be easily handled while marinating.
2. Now rub thoroughly the turkey breasts with the prepared marinade and leave for 15 min.
3. Place the marinated turkey breasts in a roasting pan and then place the pan on preheated grill (it should be better if the roasting pan is placed indirectly on the grill for safety of pan and avoid burning of turkey before cooking). Grill time for turkey breasts take up to 2 hrs. or you can check it by inserting the thermometer inside the turkey breast so that it touches the bone side and if reads 170 degrees F then the turkey is ready to take out for serving.
photo source : 1