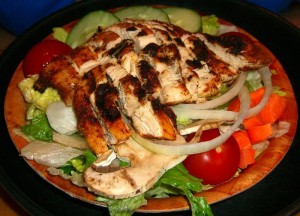 Preparation time : 15 min + Marinating time | Serves 2-4 persons
This Blackened Chicken Recipe was inspired by the original copycat Applebee's Blackened Chicken Recipe. This recipe is so simple and easy that you can easily prepare at home and save lots of money.
Ingredients:
2 boneless chicken breasts (cut into halves)
2 tbsp butter
For Marinade:
3 tbsp lime juice
2 tbsp soy sauce
½ tbsp Worcestershire sauce
Salt to taste
½ tsp garlic powder
½ tsp white pepper
½ tsp cayenne pepper
1 tsp onion powder
1 tsp brown sugar
1 tsp paprika
Procedure:
1. Combine all the ingredients mentioned for marinade and rub it over the chicken breast pieces evenly. Cover the marinated chicken and leave for overnight.
2. Heat butter in the sauté pan and cook marinated chicken at medium heat until water of chicken would get dry.
3. Now transfer the chicken pieces to the preheated grill pan and cook for 2-3 min until chicken pieces turn into brown in color from every side.
4. Serve the spicy hot blackened chicken with fresh vegetables and mustard mayo dressing.