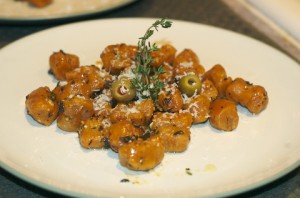 Preparation time : 30 min. | Serves 4 persons
This Pumpkin Gnocchi is one of an easy recipe for the fall season, it is served with different ways either with topping of some sauce or with some grated cheese. It is very light in flavor and can be a good appetizer if it is served in small size.
Ingredients:
½ cup pumpkin
1 large egg
½ tsp salt
1/8 tsp freshly grated nutmeg
1/8 tsp freshly ground cloves
¼ tsp freshly grated cinnamon
1/8 heaping teaspoon baking powder
½ cup all purpose flour
3 tbsp fresh butter
½ cup freshly grated Parmesan cheese
Procedure:
1. Combine pumpkin, egg, salt, nutmeg, cloves, cinnamon and baking powder in a large bowl and then pit in blender to make smooth batter.
2. Take out the mixture in a mixing bowl and add flour to it to make soft dough.
3. Boil water in a sauce pan with salt.
4. Dip a teaspoon in the hot water, then scoop up half teaspoon of dough and drop it in water, similarly make dumplings in same fashion and keep the heat low as possible while dumplings are cooking, it would take 10 min.
5. When dumplings become ready take them out form water and let it dry.
6. Heat butter in a skillet and fry the dumplings in batches until become golden brown form every side.
7. In the end serve the pumpkin gnocchi with the topping of Parmesan cheese and herb dressing.
photo source : 1