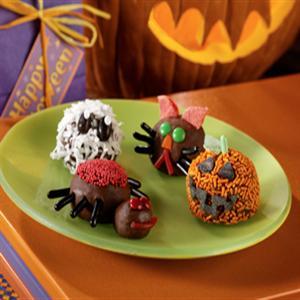 Preparation time : 10 min + 15 min Chill time | Serves 3 dozen (approx.)
These scary and spooky Halloween balls are one of great treat for kids. In this recipe I have tried to give you few ideas of making scary faces using colorful sprinkles, coconut flakes and assorted candies, you can make many more spooky faces using the same ingredients for more fun.
Ingredients:
3 cups semi-sweet chocolate chips
14 oz sweetened condensed milk
1 tbsp vanilla extract
For Decoration:
Coconut flakes
Colorful sprinkles
Assorted candies
Procedure:
1. Cook condensed milk and chocolate chips together at low heat until all chocolate would melt and mix evenly with the milk.
2. Then remove the pan from heat and add vanilla extract. Let the batter to chill in fridge for 15-30 min until it firms and sets completely.
3. After that make balls of the chilled batter and keep them at cool place so that they would not get sticky.
4. Now to give these balls scary and spooky look use the ingredients mentioned for decoration for instance;
Evil Hands: Shape the fudge into finger and attach them with the square piece of fudge dough, to make nails you may use black or red candies or jelly.
Pumpkin Face: Coat the fudge ball with orange sprinkles and use green jelly or candy to make eyes and mouth.
Ghost Face: Coat the balls with coconut flakes and use black candies for making eyes.
Spider : To make spider you will have to use one small ball for face and one comparatively large ball for body, roll the fudge dough like threads to make legs of spider and then attach to the body and in the end attach red candies for eyes.