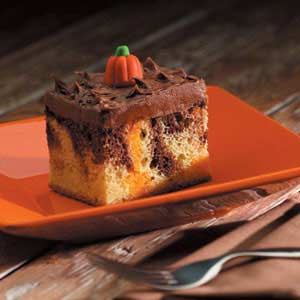 Preparation time : 50 min. | Serves 12-16 persons
This Halloween poke cake is prepared with marble cake hence chocolate frosting is used to decorate the cake. To make colorful poke cake for kids use vanilla butter cake, vanilla frosting and strawberry gelatin and decorate with colorful sprinkles and candy corns.
Ingredients:
4 lb marble cake
6 oz orange gelatin
1 cup boiling water
½ cup cold water
½ cup butter (softened)
3 ½ cup confectioners' sugar
1/3 cup unsweetened cocoa
¼ cup milk
1 tsp vanilla extract
Candy pumpkins as required
Procedure:
1. Dissolve gelatin in cold water and the bowl over boiling water to melt on steam. Stir the gelatin in between and take out the bowl from boiling water pan until all the gelatin melts completely.
2. Make small holes in the marble cake at equal distances using skewer.
3. Pour the melt gelatin over the cake and refrigerate for 2-3 hrs until gelatin sets completely.
4. Meanwhile prepare frosting for the cake, cream butter and sugar until become fluffy.
5. Add cocoa, milk and vanilla and mix well.
6. Cover the cake with the prepared chocolate frosting and decorate with candy pumpkins.
photo source : 1