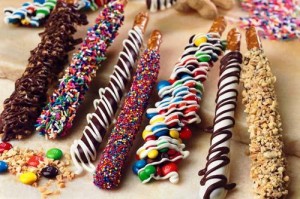 Preparation time : 20 min. + Setting time | Serves 24 pretzel treats
These pretzel treats are prepared with chocolate and marshmallows with coating of nuts and sprinkle (jimmies). You can also decorate with combination of white and dark chocolate as mentioned in the photo.
Ingredients
8 oz white baking chocolate (chopped)
1 package pretzel rods
1 cup marshmallows of any color
Multicolor sprinkles
Chopped nuts
Procedure:
1. Melt chocolate for approx. 2 min. in microwave.
2. Dip half pretzel rod in the melted chocolate and place then on wax paper until set.
3. Boil water in a deep sauce pan and place the cup of marshmallows over the hot boiling water to melt. When all the marshmallows melt completely remove the bowl from boiling water.
4. Coat rest of the pretzels in the melted marshmallow and place on wax paper to set.
5. Now coat the half of chocolate pretzels with nuts and remaining half with sprinkles. Similarly do the same thing with marshmallow pretzels and then place them in fridge for 15 min.
photo source : 1