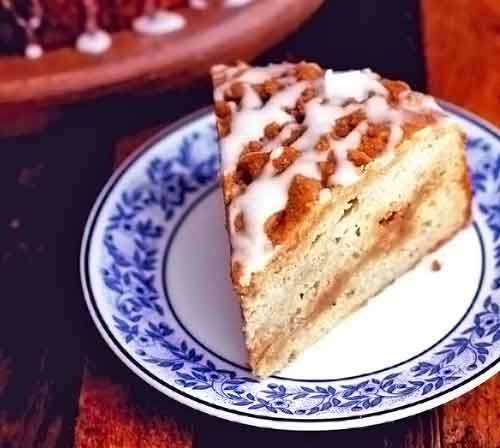 photo source : 1
Preparation time : 80 mins. (approx.) | Serves 10-12 persons
This Banana Bread Crumb Cake is entirely different from the typical banana cake or banana bread. It is prepared in layer fashion; first layer is of banana cake batter and then top with crumbs layer. The crumb filling is made with brown sugar, butter and flour, and the tempting sugar glaze topping enhances the flavor of this yummy cake.
Ingredients:
8 oz flour
3 tsp baking powder
1 tsp salt
3 ripe bananas
4 oz butter (softened)
14 oz granulated sugar
2 eggs
1 tsp vanilla
8 oz milk
For Crumb Filling Topping:
8 oz cold butter (cubed)
14 oz light brown sugar
8 oz flour
For Sugar Glaze:
4 oz powdered sugar
1-2 tbsp milk
Procedure:
1. In a mixing bowl, sift together flour, baking powder and salt and set aside.
2. In another large mixing bowl, mash bananas till they form a uniform paste. You may also use blender to do this.
3. Add butter to the mashed bananas and mix well, then add sugar, eggs and vanilla and whisk until well blended.
4. After that stir the batter in milk and flour and make smooth batter.
5. To make crumb filling topping, process together filling ingredients in the food processor until gets soft crumbs like texture. You may also use pastry cutter to do this instead of processor.
6. Now take a greased round or rectangular baking pan of medium size, pour half of the banana batter at the base, then spread half of the crumb mixture and then repeat this pattern with remaining batter and crumbs filling.
7. Place the pan in preheated oven at 350 degrees F for 50-60 mins. until becomes golden brown from top or toothpick inserted comes out clean from the center.
8. Meanwhile, prepare sugar glaze by mixing powdered sugar and milk. It will be thick creamy in texture.
9. When the cake is done, cool it on wire rake for 5 mins, then serve the delicious Banana Crumb Cake with topping of sugar glaze.