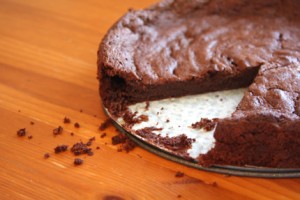 Preparation time : 30 min. | Serves 8 persons
This flourless chocolate cake recipe would be a wonderful recipe for those who can't take gluten food. You can serve this awesome chocolate cake with topping of icing sugar or chocolate fudge. Lots of other variations you can made in the recipe by replacing brown sugar with granulated sugar.
Ingredients:
7 oz semi-sweet chocolate (finely chopped)
6 tbsp unsalted butter
1½ tsp vanilla extract
4 large eggs (separated)
Pinch of salt
1/3 cup light brown sugar
Procedure:
1. Preheat oven to 325 F.
2. Combine chocolate and butter in a bowl and place the bowl over a double boiler and let the chocolate melt.
3. When chocolate and butter melts completely remove the bowl from boiler and let it cool.
4. Now add vanilla and egg yolks to the melted chocolate and stir well.
5. In separate bowl beat egg whites with slat until stiff peaks are formed. Stir brown sugar with spatula but make sure egg whites would not settle down.
6. After that combine egg white and chocolate mixture together and take care of egg whites not to deflate.
7. Pour the batter in a greased baking pan and bake in preheated oven for 15-18 min or until it spring back on pressing the finger in the center.
8. Now let the cake cool to room temperature you will observe that the cake will sink down after a while it because it doesn't have any flour but don't get panic the taste will be awesome.
photo source : 1