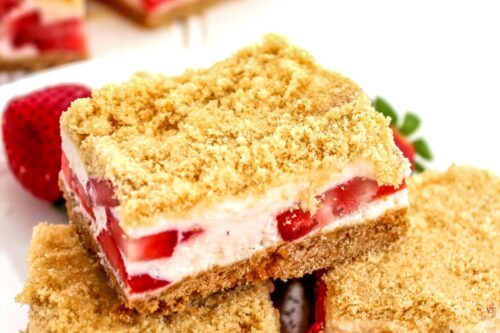 Preparation time: 30 mins. + 6 hrs. Refrigeration time | Serves 10 persons
This Frozen Strawberry Crunch Cake would be a wonderful summer cake recipe. It is a no-bake frozen cake made with strawberries which you can also make with some other fruits like blueberries, mango, etc. It will give an awesome taste and texture when refrigerated overnight.
Ingredients:
7 oz flour (sifted)
3.5 oz brown sugar (packed)
½ cup mixed nuts (chopped)
8 oz butter (melted)
3 egg whites
6 oz sugar
1 lb frozen strawberries (thawed and drained)
2 tbsp lemon juice
8 oz whipping cream
Procedure:
1. In a mixing bowl, combine flour, brown sugar, nuts, and melted butter and mix them well.
2. Transfer this mixture to the baking pan or bowl and bake in preheated oven at 350 degrees F for 20 mins. Stir after 10 mins. to get an even brown color.
3. Meanwhile, in a mixing bowl, beat together egg whites, sugar, and lemon juice until stiff peaks are formed.
4. In another bowl, beat whipping cream until stiff peaks are formed, and then combine both batters using a rubber spatula.
5. When the batter mixes well, add strawberries and fold it evenly using a spatula with the batter.
6. After that, take a rectangular baking pan line it with a parchment sheet and then spread 2/3 of the baked crumbs mixture at the base of the pan.
7. Pour the batter onto the crumbs layer and then top with the remaining crumb mixture. Refrigerate for at least 6 hrs. or preferably overnight.
8. When the Frozen Strawberry Crunch Cake gets firm and sets nicely then, slice it into pieces and serve it with the topping of fresh strawberry slices.
photo source : 1