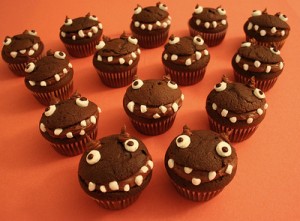 Preparation time : 50 min.
This monster cupcakes recipe is another interesting Halloween food party idea which is full of fun. These cupcakes are decorated with chocolate fudge frosting and butter cream frosting hence become economical as compare to other Halloween treats.
Ingredients:
Chocolate cupcakes or muffins
Chocolate fudge frosting
Butter cream frosting
Procedure:
1. Cut the muffins from top so that they become flat.
2. Spread the chocolate frosting on the top of muffin so that a thick layer would form.
3. Slide the upper surface (which is cut shortly) of muffin over the frosting in such a way that frosting slightly moves outside but would not drop.
4. Now fill the vanilla frosting in piping bag and make two spots or drops of eyes on the upper surface of muffin.
5. Fill chocolate frosting in another piping bag and drop smaller drop on the vanilla frosting so that it perfectly looks like eyes.
6. To make teeth, drop few spots in two rows on chocolate frosting which is sandwiched between two muffin layers. This gives the perfect monster look.
photo source : 1