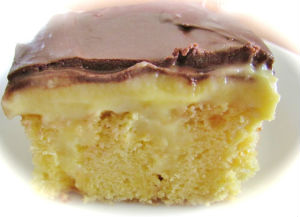 Preparation time : 40 mins. + Refrigeration time | Serves 6-8 persons
This Boston Cream Poke Cake is one of a delicious cake prepared with vanilla pudding and chocolate fudge topping. This recipe is prepared in three steps; first prepare plain vanilla cake, make vanilla pudding and chocolate frosting. Apply the layers of pudding and frosting one by one onto the vanilla poke cake and refrigerate. Read more to learn each and every step in detail.
Ingredients:
For Cake:
3 cup all purpose flour
1 tsp baking powder
1 tsp salt
½ tsp baking soda
1 cup butter
2 cup sugar
4 eggs
1 cup buttermilk
2 tsp vanilla extract
For Frosting:
1 pck vanilla instant pudding
3 tbsp butter
1/3 cup cocoa
1 1/3 cup powdered sugar
¼ cup milk
½ tsp vanilla extract
Procedure:
1. Prepare vanilla butter cake according the instruction mention in the recipe of butter cake.
2. To make frosting, first prepare vanilla pudding according to the package instructions and set aside.
3. For chocolate frosting, melt butter in a saucepan, add cocoa in it and mix it well until it starts bubbling.
4. Then remove from heat and alternately add milk and sugar, whisk continuously while adding so that even smooth frosting would form.
5. When the batter becomes smooth, add vanilla and just mix it evenly.
6. Now take the prepared vanilla cake and start poking (making small holes) it using handle of a wooden spoon.
7. Then pour the prepared vanilla pudding over the entire cake surface and refrigerate for 1-2 hrs. until the pudding gets firm.
8. After that pour the chocolate frosting on top of the cake, spread it evenly over the entire cake, and refrigerate until the frosting sets nicely.
9. Boston Cream Poke cake is now ready to serve!
photo source : 1