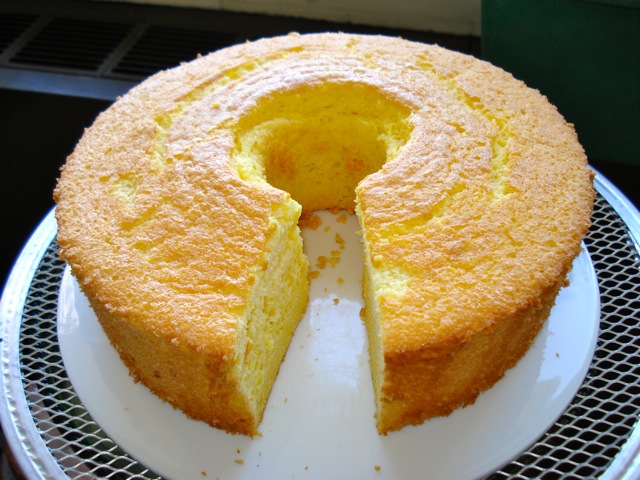 Preparation time : 40 min. | Serves 16 pieces
This low fat cake is also called as lemon chiffon cake if some frosting of lemon is done onto the cake. This cake is very soft and spongy due to egg whites and to make a good low fat cake of this type you need to mix the ingredients with egg whites carefully so that air should not escape out form the whites otherwise batter would settle down and soft sponge would not form.
Ingredients:
6 oz flour (sifted)
4 oz cornstarch
1½ cup sugar
1 tsp baking powder
1 tsp baking soda
¼ tsp salt
½ cup sunflower oil
1 tsp grated lemon zest
¼ cup fresh lemon juice
1 tbsp vanilla extract
1 tsp lemon extract
7 large egg whites
Procedure:
1. Preheat oven to 325 F.
2. Sift together dry ingredients including flour, 1 cup sugar, baking powder, baking soda, and salt.
3. Combine lemon juice, lemon zest, vanilla extract and oil in a mixing bowl.
4. In a separate bowl beat egg whites with pinch of salt to make stiff peaks.
5. Now make a well of dry mixture onto the counter, put lemon mixture and 1/4 amount of egg whites into the well and start mixing the ingredients using spatula.
6. Add remaining egg whites and mix with the flour mixture until become smooth batter.
7. Pour this batter into the 9 inch greased bundt pan and then place in preheated oven for 30 min until become done or tooth pick inserted comes out clean.
8. After that cool the cake to room temperature, loosen the cake from the sides of pan and then transfer to the serving platter. You can make 16 medium pieces of this cake for serving.
photo source : 1